How MyBasePay Will Get the 'Shark Tank Treatment' at the 2021 Collaboration In the Gig Economy Conference
There is something special about making face-to-face connections at conferences and conventions in the B2B world. While such events have been kept on hold for a while due to the coronavirus pandemic, things are starting to change — and MyBasePay is getting right into the action.
We're excited to attend the upcoming Collaboration in the Gig Economy conference, held in Phoenix this September. While this will provide plenty of great learning opportunities from industry experts, MyBasePay also has a little extra reason to be excited about this event.
This year, MyBasePay will participate as a finalist in the Gig Economic Shark Tank: Technology Innovation Competition.
What Is Collaboration In the Gig Economy?
This year's Collaboration in the Gig Economy conference will be held from September 21 to 23 at the Sheraton Phoenix Downtown in Phoenix, Arizona. This award-winning conference is hosted by Staffing Industry Analysts, a global advisor and researcher on workforce solutions founded in 1989.
This conference provides an excellent opportunity for tech companies, talent solutions suppliers, human resources, and others in the industry to collaborate and learn about strategies for the ever-changing world of staffing.
After the significant disruptions caused by the global COVID-19 pandemic, the world of work and staffing has changed like never before. Conference sessions will cover essential topics like talent acquisition technology, staffing platform convergence, and growing businesses amid disruptive change.
How MyBasePay Got Involved
As a contingent workforce management platform, MyBasePay is a natural fit for the Collaboration in the Gig Economy conference. Our platform empowers staffing firms, independent recruiters, and other talent acquisition executives with critical back-office solutions.
Among MyBasePay's product offerings are the employer of record, payroll, onboarding, benefits administration, legal compliance, and funding, as well as a staffing exchange platform for identifying top talent. This streamlines tedious back-office operations so talent professionals can focus on recruitment and growth.
Working with MyBasePay is essentially like having legal, admin, HR, compliance, and payroll departments rolled into a single convenient, fully integrated solution. Our solution aims to empower staffing professionals to do their job better than ever without having to worry about tedious (and sometimes confusing) back-office responsibilities.
We fit right in with the goals and topics of this timely conference and are excited to collaborate with other workforce solutions suppliers as we learn more about what is needed to succeed in this disruptive age. 
The Shark Tank Competition
While we are excited for the speakers, breakout sessions, and networking opportunities at the conference, a definite highlight for our team is that MyBasePay has been selected as a Finalist for the conference's Gig Economy Shark Tank: Technology Innovation Competition.
This year, the conference received 28 nominations — the most submissions ever. MyBasePay was selected as one of five finalists for this exciting competition that focuses on tech IPOs in the staffing and workforce industry. 
Alongside other tech-based workforce solutions suppliers, MyBasePay will have the opportunity to pitch the conference's "sharks" for a chance to win the Gig Economy Shark Tank Award. The "sharks" for the contest include John Healy, VP and Blockchain Taskforce Chair of the World Employment Confederation and Chief Executive of Whrrr; Jarryd Levine, Principal of Stone Point Capital; Art Papas, Founder and CEO of Bullhorn and Allison Robinson, CEO, and Founder of The Mom Project.
Modeled after the popular TV show, MyBasePay will have five minutes to pitch the "sharks" on what makes our company the most qualified, innovative, and disruptive — and what gives us such strong market potential. The panelists will then have an additional five minutes to ask questions and discuss MyBasePay in greater detail.
This exciting session will be held on Wednesday, September 22, beginning at 4:30 pm in the conference's General Session room. 
Winning the contest would provide MyBasePay with publicity through Staffing Industry Analysts' publications. But perhaps even more importantly, this also gives MyBasePay the incredible opportunity to show conference attendees how we can disrupt and innovate the talent supply chain. 
Why You Should Attend, and What You Should Expect
While the Shark Tank competition will undoubtedly be a significant highlight for MyBasePay, this is far from the only thing that makes attending the conference worthwhile. Stakeholders throughout the talent supply chain have much to gain from the speakers, showcases, and networking opportunities.
The conference begins the evening of September 21 with a reception for the workforce solutions industry — one of many networking opportunities available throughout the conference.
Things get going on September 22, with exhibits in the collaboration hall and a host of speakers and showcases covering a wide variety of topics relevant to the staffing industry. Topics include everything from the remote work revolution and same-day hiring to candidate verification and big tech.
Each session features talented speakers from leading companies in the talent acquisition space, such as Eric Gilpin, Senior Vice President of Sales at Upwork; Whitney Johnson; bestselling author and Founder and CEO of Disruption Advisors; and Lauren Griffin, Senior Vice President at Volt. There will be a lot of talent on-site — an incredible opportunity for attendees to learn and grow their networks.
There will be so many incredible sessions going on at the conference that it's hard to single out just one. However, the MyBasePay team is especially looking forward to The Next Generation of Innovation in the Gig Economy, a keynote panel featuring leaders such as PRO Unlimited CEO Kevin Akeroyd and Staffing Industry Analysts President Barry Asin.
See You Soon!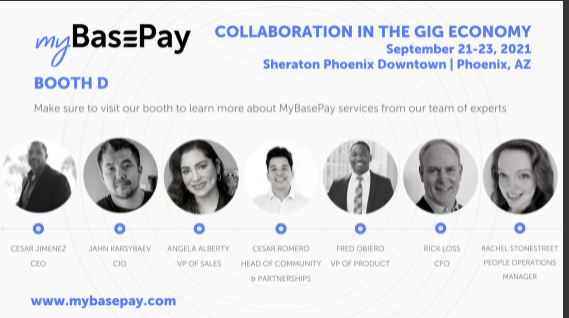 One thing is certain: this September will be an exciting opportunity for MyBasePay to show the industry what we're all about and to let people see the incredible impact our management platform can have. 
Visit us at Kiosk D at the Collaboration in the Gig Economy conference to connect and learn more about what we have to offer. And, of course, we'd love to have you support us at the Shark Tank competition. We look forward to seeing you there.
Author: Cesar Romero
Cesar is the Head of Marketing at myBasePay, where he's responsible for overseeing the company's content marketing, community, and partnerships strategy. He also co-hosts The Ivy Podcast where he interviews executives from Fortune 500 companies on executive leadership. When he's not helping startups with marketing and community strategy, you can find him paying it forward by serving as a mentor for leading organizations like StartingBloc, Hive, and Global Citizen Year.